HOME >
Promotion of Research and Development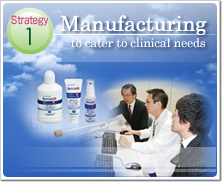 Promotion of Research and Development
Working in collaboration with universities and research organizations within and outside of Shizuoka Prefecture, we carry out translational research and develop products with local industries based on the needs of patients, their families and medical personnel.
We also conclude comprehensive joint research agreements with large companies in relevant fields to work together to enable them to develop a new range of products.
1.Implementing "translational research"
(1)Development of new diagnostic technologies and treatment methods
a. Research and development at Shizuoka Cancer Center
Case examples
Tumor marker for lung cancer production, successive product development,bio-marker development
Human monoclonal antibody production technology development and its application to therapies
b. Enhancement and promotion of the cooperation of medical service, nursing and engineering
Partnership institutes

Tokyo Institute of Technology, Tokyo University of Agriculture and Technology,Waseda University, Keio University, National Institute of Genetics, University of Shizuoka etc
Case examples
Development of a non-invasive hyperspectral melanoma diagnostic supporting system
Development of a cancer diagnosis method which analyzes chromosome abnormality
Sampling the cells for antibody production
Hyperspectral melanoma diagnostic supporting system / MSI-03
(2)Drug discovery, development of diagnostic drugs
Using the Pharma Valley Clinical Trial Platform for drug discovery, the production of virus-resistive and cancer-resistive drugs is being carried out.
Participating institutes

Pharma Valley Center, University of Shizuoka, Shizuoka Cancer Center, Shizuoka Prefectural Environment and Hygiene Institute
Case examples
Generation of potential drug targets (Patent pending)
Creation of a library of distinct chemical compounds(115,000 varieties as of March, 2012)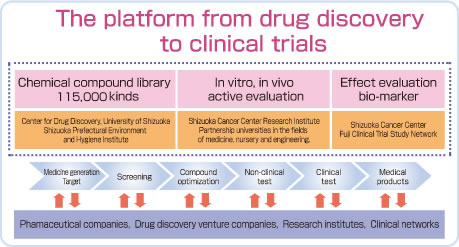 (3)Promote Clinical Research
Global pharmaceutical companies use the Fuji Clinical Trial Study Network organized by the Pharma Valley Center to extend and apply their research.
◎The Fuji Clinical Trial Study Network of 29 hospitals throughout Shizuoka Prefecture totals 14,000 beds
Case examples
Development of cancer-resistive drugs especially suited for people of Asian descent.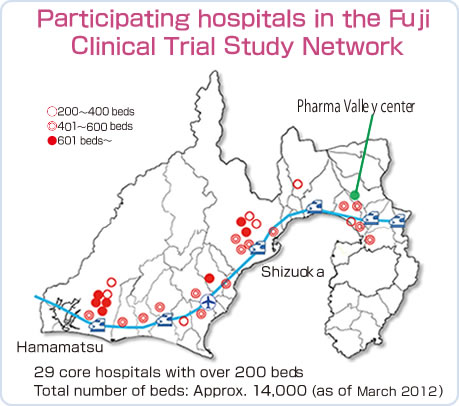 2.Technology development to fulfill clinical needs
Case examples
Rectum emptying tube
Used for prostate cancer patients during proton clinical treatment to remove gas from the rectum to make the treatment more comfortable
Guide pin for a bone biopsy needle Used to minimize pain during biopsies for bone tumors
Robe with mittens attached to prevent tube removal
To be worn by patients to restrict movement of their hands,preventing them pulling out tubes during post-operative delirium
※These products are approved by pharmaceutical Affairs Act of Japan.
Rectum emptying tube
Guide pin for a bone biopsy needle
Robe with mittens attached to prevent tube removal
3.Joint product development with large companies
Case examples
Low-irritant oral care products
Used by patients undergoing cancer therapy, elderly individuals and those with sensitive mouth regions (5 types developed so far by Sunstar Inc., Shizuoka Prefecture Dental Association and the Shizuoka Cancer Center)
Diagnostic Imaging Robotics System
By comparing an image to more than half a million images the Shizuoka Cancer Center has collected, this robot can provide potential diagnosis candidates and also assists in report generation assistance (Fujifilm Corp., Shizuoka Cancer Center)
Butler oral care series

Diagnostic Imaging Robotics System